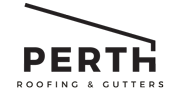 When someone has as much experience and knowledge in a profession as Darren Van Riessen, owning and operating a business in that field seems as natural as breathing.
Perth Roofing and Gutters owner Darren Van Riessen began working in the roofing industry when he was just 15-years old. Gradually, Darren moved about the industry amassing a wealth of skills and business sense along the way.
During the downturn of the housing industry, Darren saw an opportunity in the restoration side of the roofing business. Having spent several years working with restorations when he was in his 20s, Darren had the necessary know-how to become one of the best in this field. In time, Darren opened Perth Roofing and Gutters. Owning the business provides the opportunity for Darren to give his all to customers as well as the latitude to make decisions based on what is best in any given situation.
Darren finds a great deal of satisfaction in his job. He appreciates the process of taking something that's old or damaged, and bringing it back to its former glory.